Frankie Flores Biography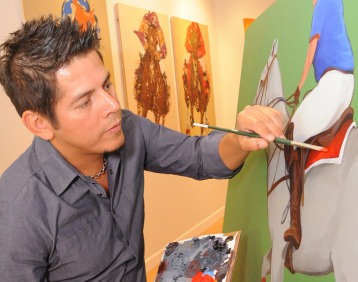 The thunder of hooves. The haunting melody of smoky jazz. The whisper of a breeze in a vineyard. Life vibrates in rapturous hues and bold strokes in the work of prolific painter Frankie Flores, a New York state artist whose canvases hit the high notes in coast-to-coast collections.
Raised around Houston and New Orleans -- urban centers saturated with color, action and joy -- Flores integrates sense impressions from his early years with vivid images that infuse his experience today. His immense and eclectic body of work spans meticulous illustration, evocative abstracts, glamorous equine and musician portraiture and alluring landscapes. Whether he is capturing triumph at the racetrack, plumbing the soul of a jazz scene or evoking a sultry blue dusk, Flores's electric ribbons of color demand and deserve attention.
Flores first realized that he would be an artist when he was 15, attending an exhibit in Houston. He began his personal journey with exquisitely detailed drawings of safari animals, a radically different approach to representation than his images today, which are largely conceptual. He went on to attend both the University of Houston and the Art Institute of Houston, Versatile and ambitious, Flores first exercised his talents in corporate advertising and marketing, where he worked in graphic design for 12 years on accounts including Pepsi, Frito-Lay and G.E., meanwhile developing his niche as a fine artist. As he matured as an artist, he was influenced by the imaginations of Salvador Dali, Peter Paul Rubens, Frida Kahlo and Pablo Picasso, who "made the impossible, visible." He appreciates art in many styles, and owns originals by about 40 other artists.
The hallmark of a Flores canvas is its force field -- uninhibited magnetism he creates by applying thick layers of oil, enamel or acrylic paint to canvas with a palette knife, and whose cumulative depth brings forth waves of luminous, three-dimensional figures. A perfectionist, Flores is not afraid to experiment: a horse may be hot pink; a musician, neon blue; the sky, green. He also breaks the rules with frozen paint, poured paint, and painted surfaces he exposes to blowing air to form patterns. And, he doesn't limit himself to canvas; some of Flores's playful, exclusive designs are painted on dresses, ties, t-shirts and jackets, wearable art particularly popular at the Saratoga Racetrack in August, and which are often featured in magazines. He has also decorated sculpted ponies now on display on Saratoga's Broadway, and traditional Adirondack chairs.
"I push the boundaries," he acknowledges. "I am not always going to do what's expected. I love the painting to have movement and for the media to contribute to that."
Flores's success has not distanced him from his art or his audience. He still prefers to stretch his own canvas, build his own frames and mix his own paint. His work has a loyal following, evidenced in the crowds who attend his gallery openings in Saratoga Springs, NY, and the repeat buyers who add to their collections, piece by piece. Clients include Donald Trump, Bruce Springsteen, Harry Connick Jr., Jenny McCarthy, the Dave Matthews Band, Poison, Bill Parcells,
Mikhail Gorbachev and
past Presidents. He is also admired for his extreme generosity; the approachable Flores donates work to nonprofit organizations to be auctioned at fundraisers and, accompanied by his wife, Ann-Marie, frequently makes guest appearances when his presence enhances the profile of a charity.
Flores has won more than 50 professional awards honoring his achievements.
For more information, call or email Frankie at frankieart7@yahoo.com
---
Order a Custom Flores Original for Your Home or Office.

518-791-2090
454 Broadway, MarketPLace Lower Level - Saratoga Springs, New York 12866